Just a couple of weeks after the judge made his ruling, as we saw in the last post, the county Executive Committee met to review the county budget. Not that anyone would expect an instant turnabout, and the commissioners were busy spending more taxpayer money in legal fees to challenge the court order, the Executive Committee found spending beyond what had been appropriated.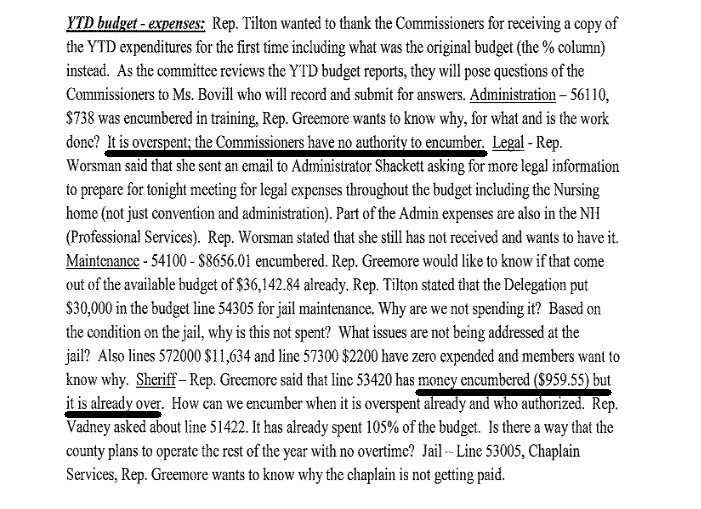 And the legal bills would come to the Executive Committee in the form of a transfer request February 17, 2015. Note the comment of the newly appointed (Republican) commissioner Hunter Taylor.
The Convention in 2015 set a line-item transfer limit of $800, an increase from $300 in 2014, allowing the commissioners more flexibility in moving money between lines in the budget.
In 2016 that limit was increase to $1,000. By the summer of 2016 we would start to see signs of problems ahead.
There is a word that describes spending beyond that which is appropriated; misappropriation. Perhaps you recall the earlier statement by commissioner Taylor?
24:15 Exceeding Appropriations. –
I. No county commissioner, or elected or appointed county officer, shall pay, or agree to pay, or incur any liability for the payment of, any sum of money for which the county convention has made no appropriation, or in excess of any appropriation so made except for the payment of judgments rendered against the county.
II. In the case of an emergency, the county commissioners, or an elected or appointed county officer, may apply to the executive committee, which, after a public hearing, may grant to the county commissioners or officer authority in writing to make such emergency payment.
IV. If any county commissioner, or elected or appointed county officer, is found in a prosecution for violation of RSA 643:1 to have paid or incurred any liability for the payment of any sum of money contrary to this section, it shall be prima facie evidence that such county commissioner or officer has knowingly refrained from performing a duty imposed by law.
We can clearly see that funds had been spent beyond appropriations in August of 2016 but we can not say who is responsible for the misappropriation. That would have required an investigation and prosecution.
643:1 Official Oppression. – A public servant, as defined in RSA 640:2, II, is guilty of a misdemeanor if, with a purpose to benefit himself or another or to harm another, he knowingly commits an unauthorized act which purports to be an act of his office; or knowingly refrains from performing a duty imposed on him by law or clearly inherent in the nature of his office.
We can see in this November 22, 2016 Executive Committee meeting that the county administrator is aware of the issue, yet the commissioners deny knowledge.
At this point you might start asking yourself why I don't grab a mirror and have a look at my responsibility for allowing this to continue. Good point. While there will be more in the next installment, I'll give you a glimpse of the past when I previously brought up the need for an investigation. From January 12, 2015, you can get a sense of the cool reception.
We will come to see there is little appetite in government to hold ourselves accountable, but I will not stop so easily. More to come…
---
All the pieces in this series: